ANALYSIS OF FUNDAMENTAL SYSTEMS IN ARCHITECTURE WITH NATURE ATTITUDE NATURAL SYSTEMS IN CASE STUDY OF ARCHITECTURE OF NIAKI NEIGHBORHOOD HOUSES, AMOL
Zohreh Sanaei

Islamic Azad University

Jamshid Mirhadi

Islamic Azad University

Ali Asgharzadeh

Islamic Azad University
Resumo
As usual, in architecture the most important part would be possible through fundamental systems. Either soft or hard materials or a combination of natural inspiration and the nature generally form these kinds of structures. Attitude toward the universe and its phenomena has been raised since far past in ancient cultures and worldviews. It should note that human and nature are considered as architectural system environment. Because this system is firmly related to its environment, its great number of environmental impacts makes a subsystem in the whole architectural system. Research and inference process are based on case study analysis of case studies among which Niakie neighborhood houses in Amol are chosen through all the magnificent architectural works from Qajar period. The research achievements indicate that there are the greatest effects done by using the natural materials, the natural forms as well as climate principles on the manner of natural ten deny in the architecture of houses in Qajar era. The main question in this research is how the natural systems have been expressed in the architecture of old Iranian houses descriptive analytical techniques are used in research process.  The required data for theoretical formulation of the topic, which collected by Briary Method and the analysis, is given for each work by field study. This study seeks to examine how some architectural art works interact with nature by analyzing a number of architectural artifacts through stem systems, applying the natural process and obtaining appropriate natural patterns.
Referências
Adibi, A., Manam, A.R., and Ghazizadeh, N. (2005). Water and Fountain Position in Urban Parks. Fine Arts, 22, 73-82.
Ahmadi, F. (2005b). City-Central Court House (City-Sustainable House, City-Religious Hoouse). Sofeh, 113, 41-90.
Alexander, Ch. (2017). The Nature of Order (Fourth Edition). The Courtyard Phenomenon, Translated by Reza Sirus Sabri, Ali Akbari, Tehran: Parham Naghsh Publications.
Ayazyan, S. (1998). Utilization of Traditional Architectural Methods in Energy Saving. Fine Arts, 3, 84-89.
Fakhr Tabatabai, M. (1996). System Impact with Courtyard Nature, Enteshar Joint Stock Company
Farshad, M. (1983). System Attitude, Bonyad-Neyshaboor.
Ghobadian, V. (1989). Climatic Study of Traditional Iranian Buildings, Tehran University Press and Publishing Institute.
Jenks, Ch. (2002). The Gradual Movement of High-Tech to the Logic, Translated by Mohammad Ali Ashraf Ganjavi, Abadi Journal, No. 36.
Mahmoudi, A. (2005). Review of the Importance of Porch in Traditional Houses, Fine Arts, 22, 53-62.
Mehdi Nejad, J., Sirous Sabri, R., Damavandi, M.E., and Abbaspour Asadollah, J. (2012). Architectural Design Based on Interaction of Beauty and Performance in Nature, Urban Identity, 10, 59-66.
Najib Aghlou, G. (2000). Geometry and Ornamentations in Islamic Architecture, Translated by: Mehrdad Qayumi, Rozaneh.
Nasr, H. (2000). Human and Nature (The Modern Crisis of the Spiritual Huan), Translated by: Dr. Abdolrahim Govahi, Office of Islamic Culture Publication.
Noghrekar, A., Jahanbakhsh, H., and Hamzehnejad, M. (2017). Human, Nature, Architecture, First Edition, Tehran: Payame Noor University.
Partogazi, P. (2006). The Impact of Nature on Space, (Translated by Jaleh Asra). Architecture and Culture, 27- 33-35.
Senozian, Kh. (2010). Biological Process Architecture, Translated by Saman Sadeghi, Tehran: Parham Naghsh Publications.
Shahroudi, A.A., Golabchi, M., & Arbabian, H. (2007). Utilization n of Nature for Effective Teaching of Static Course in Architecture in Iran, Fine Arts, 31, 47-56.
Taghizadeh, K. (2006). Tutorials on Natural Structures, Lessons for Architects. Fine Arts, 28, 75-84.
Zamani, P. (1999). Introduction to Nature in Architecture. Architectural Papers. Second Congress of Iranian Architectural and Urbanization History. (April, 14-18, 1999) (pp. 457-465), Tehran: National Heritage Organization.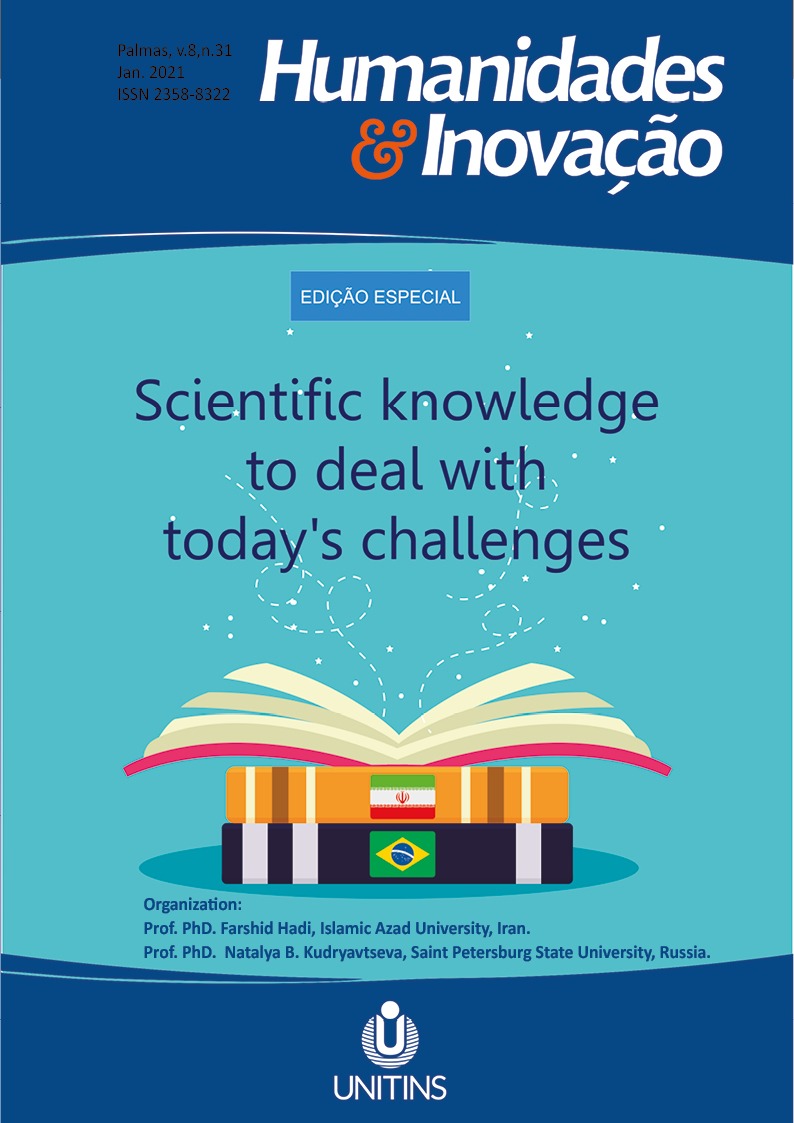 A submissão de originais para este periódico implica na transferência, pelos autores, dos direitos de publicação impressa e digital. Os direitos autorais para os artigos publicados são do autor, com direitos do periódico sobre a primeira publicação. Os autores somente poderão utilizar os mesmos resultados em outras publicações indicando claramente este periódico como o meio da publicação original. Em virtude de sermos um periódico de acesso aberto, permite-se o uso gratuito dos artigos em aplicações educacionais, científicas, não comerciais, desde que citada a fonte (por favor, veja a Licença Creative Commons no rodapé desta página).