CREATOR-BASED FUNCTIONS OF TEACHER-STUDENT INTERACTION IN UNIVERSITY INFORMATION EDUCATIONAL ENVIRONMENT
Resumo
The urgency of the research is conditioned by the processes of permanent transformations of a student's professional training following the needs of a modern university's information and educational environment. The priority of teacher-student interaction functions in the future specialist professional training is justified by the results of the majority of this process studies. The authors of the article reveal the pedagogical aspect of innovative, creator-based functions adapted to the process of teacher-student interaction in the university information educational environment. Features of higher education institutions' information educational environment as a resource basis of the creator-based functions of teacher-student interaction are established. The structure and content of creator-based functions of teacher-student interaction in the university information educational environment have been substantiated. The effectiveness of creator-based functions has been proved through the potential and real levels of readiness of the teacher and the student for innovative interaction.
Referências
BEREITER, C., SCARDAMALIA, M. (2003). Learning to work creatively with knowledge. URL: http://ikit.org/fulltext/inresslearning.pdf/
BIROVA, J., Vasbieva, D.G., & MASALIMOVA, A.R. (2017). Communication in French Foreign Language Learning by Implementing the Aspects of Interculturality. Komunikacie, 19(4), 95-104.
BOBROVA, L.N., & NIKULOVA, G.A. (2012). Software for educational purposes: a manifestation of the role-playing style of teaching. International electronic journal Educational technologies and society, 15(2), 493-516.
EZHOV, S.G., ZAITSEVA, N.A., SMIRNOVA, E.V., KHAIRULLINA, E.R., KURIKOV, V.M., NIKONOV, V.V., & GUMEROV, A.V. (2017). Pedagogical Correction of University Student Professional Self-Alienation. Eurasian journal of analytical chemistry, 12(7В), 1533-1540.
GALUSTYAN, O.V. (2014). The theoretical basis for the use of virtual learning environment in learning. SFU news. Technical science, 3, 18-54.
KAZANTSEV, A.K., KISELEV, V.N., Rubvalter, D.A., RUDENSKY, O.V. (2012). NBIC-technologies: Innovative civilization of the XXI century. Moscow: INFRA-M.
KUSHNIR, M. (2017). Assembling by Digital Educational Environment. URL: http://-meduk. inlogspot.Com./2017/digEdu.html
LAKTIONOVA, E.B. (2010). Educational environment as a condition for the development of the individual and its subjects. Izvestiya of RSPU named after A.I. Herzen, 128, 40-54.
MASALIMOVA, A. R., SHAGIEVA, R. V., KOSARENKO, N. N., LATYSHEVA, Z. I., KHAIRULLINA, E. R., & VYATKINA, I. V. (2017). The Russian experience of subject-subject interaction between university teachers and students on the basis of drama in education. Modern Journal of Language Teaching Methods, 7(2), 177-185.
NGUYEN, Q.H., KOSARENKO, N.N., KHAIRULLINA, E.R., POPOVA, O.V. (2019). The Relationship between the State and the Catholic Church in Postcolonial Vietnam: The Case of Christian Village of Phung Khoang. Bogoslovni Vestnik, 79(2), 521-533.
Romanova, O.V. (2012). Functions of the teacher and student in the information educational environment of the University. Izvestiya of Penza state pedagogical University named after V.G. Belinsky, 28, 1006–1011.
SALOMON, G., & PERKINS, DN. (1996). Learning in wonderland: What computers really offer education? In S. kerr (Ed.). Technology and the future of education NSSE Yearbook. Chicago: University of Chicago Press.
SLOBODCHIKOV, V.I. (2000). About the concept of the educational environment in the concept of developing education. Moscow: Ecopsicenter ROSS.
TELEGINA, N. V., DROVOSEKOV, S. E., VASBIEVA, D. G., & ZAKHAROVA, V. L. (2019). The use of project activity in teaching mathematics. Eurasia Journal of Mathematics, Science and Technology Education, 15(8), em1738.
TEZER, M., YILDIZ, E., MASALIMOVA, A., FATKHUTDINOVA, A., ZHELTUKHINA, M., & KHAIRULLINA, E. (2019). Trends of augmented reality applications and research throughout the world: Meta-analysis of theses, articles and papers between 2001-2019 years. International Journal of Emerging Technologies in Learning (iJET), 14(22), 154-174.
THE STATE PROGRAM OF THE RUSSIAN FEDERATION. Development of education for 2013 – 2020 years. 2013. URL: https://минобрнауки. Russian Federation/projects/State program. pdf.
TYURIKOV, A.G., OREKHOVSKAYA, N.A., BOLSHUNOV, A.Y., & AZIZOVA, A.N. (2017). Modern education: challenges, state, prospects. Quality. Innovation. Education, 11(150), 3-7.
VASILINA, D.S., NURIEVA, G.Y., & YULANOVA, D.M. (2017). Information and educational environment of a modern University. BSPU news. Pedagogical science, 1, 8 – 12.
YASVIN, V.A. (2001). Educational environment: from modeling to designing. Moscow: Mysl.
ZAKHAROVA, I.G. (2003). Formation of the information educational environment of higher education institutions: Abstract of PhD. Tyumen: Tyumen state Universi.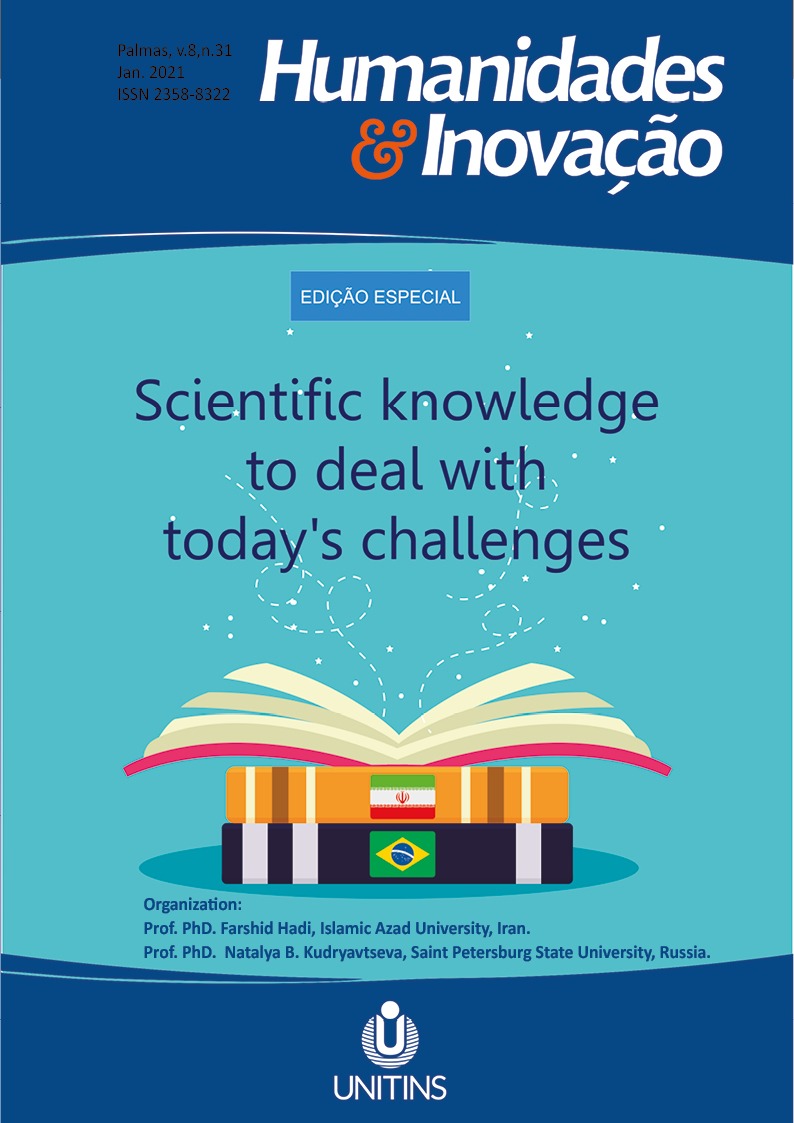 A submissão de originais para este periódico implica na transferência, pelos autores, dos direitos de publicação impressa e digital. Os direitos autorais para os artigos publicados são do autor, com direitos do periódico sobre a primeira publicação. Os autores somente poderão utilizar os mesmos resultados em outras publicações indicando claramente este periódico como o meio da publicação original. Em virtude de sermos um periódico de acesso aberto, permite-se o uso gratuito dos artigos em aplicações educacionais, científicas, não comerciais, desde que citada a fonte (por favor, veja a Licença Creative Commons no rodapé desta página).