ON STUDENT UNDERSTANDING OF SELF-ISOLATION DURING THE CORONAVIRUS PANDEMIC
Resumo
The relevance of this work is determined by the need to study student understanding of self-isolation during the coronavirus pandemic. The purpose of the research is to study the peculiarities of student understanding of self-isolation during the quarantine period. We conduct a questionnaire using Google Forms, which allows us to effectively investigate the peculiarities of understanding self-isolation during the coronavirus pandemic. As a result of the study, the paper examines the level of student understanding of self-isolation; we reveal the level of student understanding of the value of communication with family and friends. The research's novelty and originality lie in the fact that it is the first attempt to reveal the significance of student understanding of self-isolation. We determine that in the process of self-isolation, most students acquire new knowledge through the actualization of knowledge about themselves and their place in the world.
Referências
CHERDYMOVA, E.I., VOROBYEVA, K.I., ROMASHKOVA, O.V., MASHKIN, N.A., GRIGORIEV, S.M., ROMANCHENKO, L.N., KARPENKO, M.A., & BAYANOVA, A.R. (2018). Photo Exhibition Influence on Student Environmental Consciousness Formation. Ekoloji, 27(106), pp. 1271-1278.
GURUZHAPOV, V.A. (1995). Understanding of the image of a person in paintings and graphics by schoolchildren. Questions of psychology, 2, pp. 28-36.
GUSEV, S.S. (2002). The meaning of the possible. Convocational semantics. Saint Petersburg: Aleteya Publishing house.
KARGAPOLTSEVA, N.A., RAKHIMOVA, O.N., SHABALINA, L.G., GURYANOVA, T.Y., MASHKIN, N.A., MIRZALIMOV, R.M., & POPOVA, N.F. (2019). Student Identity and Various Procedures of its Development. International journal of applied exercise physiology, 2.1, pp. 519-526.
LOMOV, B.F. (1980). Features of cognitive processes in the context of communication. Psychological journal, 4(3), pp. 115-152.
MACHNEV, V.Y., CARDIOVA, E.I. (2019). Approaches and principles of studying the ecological consciousness of megalopolis residents. Sociology and social work: modern educational and research practices, pp. 318-325,

MARKOVA, A.K. (1947). Psychology of language acquisition as a means of communication. Moscow: Pedagogy.
OSNITSKY, A.K. (1996). Problems of research of subjective activity. Questions of psychology, 1, pp. 5-19.
PUCHKOVA, E.B. (2018). Analysis of involvement in the virtual environment of humanitarian students. Pedagogy and psychology of education, 2, pp. 117-129.
SOROKOUMOVA, E.A. (1995). Formation of cognitive activity of primary school children through the understanding of the text: PhD Thesis. N. Novgorod.
SOROKOUMOVA, E.A. (2012). Psychology of self-knowledge as a scientific basis for the development of learning subjects: a collective monograph. Moscow: Sholokhov Moscow state University.
SOROKOUMOVA, E.A., CHERDYMOVA, E.I., REZVANTSEVA, M.O., KOCHNEVA, L.V., LATYSHEVA, V.V., PERKOVA, E.P. (2019). Environmental and Social Practices of Old Stuff Use and Disposal by Students. Ekoloji, 28(107), pp. 5065-5069,
TEMNOVA, L.V., TRUKHACHEVA, Y.S. (2011). Socio-psychological mechanisms of adaptation of students-internal migrants (based on the results of research in the Belgorod region). Labor and social relations, 9, pp. 82-91.
TOULMIN, S.T. (1984). Human understanding. Moscow: Progress.
TSABOLOVA, O.R., CHERDYMOVA, E.I., ILJIN, A.N., ZHUKOVA, M.A., TSOPANOVA, I.G., KRASNOVA, L.N., MASHKIN, N.A., & BUGAEVA, T.K. (2019). Ecology of psycho-emotional climate in labor collections: factors, problems and prospects of development. EurAsian Journal of BioSciences, 13(2), pp. 2027-2032,
USAK, M., MASALIMOVA, A.A., CHERDYMOVA, E.I., & SHAIDULLINA, A.R. (2020). New playmaker in science education: Covid-19. Journal of Baltic Science Education, 19(2), pp.180-185.
VYGOTSKY, L.S. (1984). History of the development of higher mental functions. Moscow: Pedagogy, pp. 350-367.
WITTGENSTEIN, L. (1994). Philosophical works. Moscow: Gnosis.
YUDINA, N.S. (2004). The Secret of consciousness: alternative research strategies. Questions of philosophy, 10, pp. 125-135,
ZAKHAROVA, A.V. (1977). Cognitive aspects of a schoolboy's assessment activity. Psychological problems of educational activity of a schoolboy, 1, pp. 270-273.
ZNAKOV, V.V. (2007). Understanding in thinking, communication, and human being. Moscow: Institute of psychology, RAS.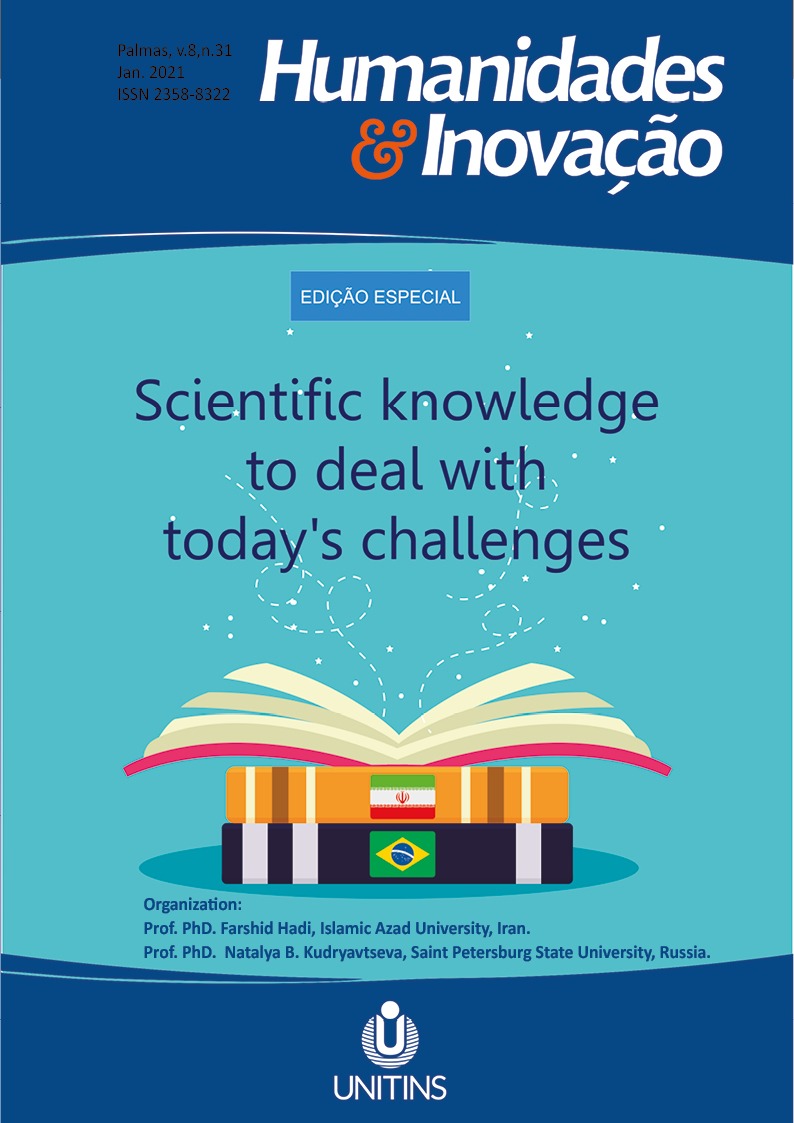 A submissão de originais para este periódico implica na transferência, pelos autores, dos direitos de publicação impressa e digital. Os direitos autorais para os artigos publicados são do autor, com direitos do periódico sobre a primeira publicação. Os autores somente poderão utilizar os mesmos resultados em outras publicações indicando claramente este periódico como o meio da publicação original. Em virtude de sermos um periódico de acesso aberto, permite-se o uso gratuito dos artigos em aplicações educacionais, científicas, não comerciais, desde que citada a fonte (por favor, veja a Licença Creative Commons no rodapé desta página).